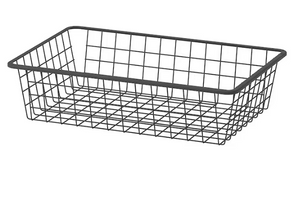 Quickly and easily cleanup every space from the kitchen to the playroom with these colorful, sturdy wire baskets. Each basket has handles for easy carrying. Integrated labels can be used with dry erase or chalk markers for instant identification. So bright and convenient, these wire baskets work equally as well for pantry, playroom or craft room organization.
Dimensions:
Frame, depth: 15 3/4 "
Frame, width: 22 1/4 "
Width: 21 1/8 "
Depth: 14 1/8 "
Height: 5 1/8 "
Max. load/basket: 15 lb